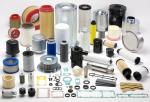 Spare parts for compressors



English

History

Oil Service offers spare parts products for the most important OEMs of vacuum pumps, compressors and treatment of compressed air. Oil Service was founded by several people with more than 10 years of experience in this industry.

Oil Service Objective

The main objective of Oil Service is to satisfy their customer's needs and for this reason Oil Service management has implemented a specific customer focus strategy, which considers the customer as being the most important part of the business. Oil Service guarantees a high quality standard sales and post-sales service based on delivery, reliability, efficiency and product quality at a very competitive price. Thanks to an accurate selection of suppliers based on quality, Oil Service offers one of the widest ranges of products for vacuum pumps and compressors in the world. With more than 10.000 filters always in stock, Oil Service is able to satisfy all needs for American, Japanese and European products therefore is a good partners to work with.

Service

The main goal of our service is to ensure customer satisfaction. Being a company that makes a commitment to being customer focused, Oil Service offers a 360° customer service from product specification, packaging and branding customisation to a prompt delivery. This vision allows Oil Service to become the leading organisation within this industry.

In order to have the access to the prices of the products you need to register and login. After the registration you will receive a default discount that will be changed depending on the volume of your orders.

For more informations, questions and prices we invite you to contact us. We will be glad to answer to your requests.

Oil Service srl - Phone +39 030.2692908- Mr. Federico Mascia (Mobile) +39 348.6000.541 - Fax +39 030.2389681- E-mail oilservice@gmail.com - E-commerce www.indoox.it

Try to find out with our search engine the spare part that you are looking for!